Jenny Gilruth MSP, Member of the Scottish Parliament for Mid Fife and Glenrothes
Latest News
---
Published 29 November 2023 St Andrew's Day is an important time for those across Scotland and the world over. The day celebrating our patron Saint is a reminder of the successes of Scotland's past and where …
On Sunday, I was proud to take part in the Glenrothes Armistice Ceremony, and to lay a wreath at the Markinch War Memorial. Each year, Remembrance Sunday gives us an opportunity to pause, reflect and …
Published in the Glenrothes Gazette and East Fife Mail on 1 November 2023 As we come into November, I hope that everyone who took part in the Halloween festivities had a wonderful time. My nephew …
jenny gilruth MSP
Get in touch and keep up to date.
If you're a Mid Fife and Glenrothes constituent and need to contact Jenny, you can find all contact details here.
If you'd like to keep up with Jenny's work then please subscribe to her periodic newsletter below (previous editions can be viewed here).
Follow Jenny on Social Media
---
Surgeries: Telephone & Zoom
---
Working for you during the COVID-19 Coronavirus outbreak
Jenny is holding regular online & telephone advice surgeries for constituents on Mondays and Fridays from 11.00 am during the coronavirus outbreak.
Please click here to book an appointment.
Jenny and her constituency team are continuing to work from home with secure access to emails and casework system.
Green Hosted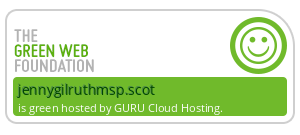 Datacentre uses 100% green-sourced power as specified by E.ON and as regulated by Ofgem.